Back to the Phuture Live, Daniel Miller and Mirrors added to the lineup
Back to the Phuture Live and Dennis Music announce DJ set from Mute records founder Daniel Miller, plus live set from the hotly-tipped Mirrors
Thursday 10 February 2011
Dennis Music and Back To The Phuture live are hugely excited to announce a rare (London only) DJ set from Daniel Miller, founder of the iconic record label Mute. If that wasn't enough of a massive cherry on the tasty cake that consists of Gary Numan, John Foxx, Motor, Recoil and Mark Jones, the hugely-tipped band Mirrors will add even more flavour to the London date with their stylish and cinematic synth pop.

"I'm so happy to be welcoming Daniel Miller and Mirrors to the line up for the Troxy", says Back To The Phuture creator Mark Jones. "Their synthfluential sonics will open up the experience even more. Oh, and I called Daniel at the Mute offices asking for guest list to Depeche Mode's European tour in 1983 and he sorted me right out. So if you need any names added Daniel, just shout!"

Wall of Sound founder, DJ and radio presenter Mark Jones has announced the first in a series of set-to-be-amazing live events.

They will take place in Manchester and London with live performances by electro originators Gary Numan and John Foxx (London only), alongside rising starts Motor on both dates, Recoil in Manchester, Mirrors in London plus a DJ set from Daniel Miller (London).

As well as recording as the seminal act The Normal, Daniel Miller has been at the helm of the utterly peerless record label Mute since 1978. A biog isn't necessary when the roster speaks for itself like this: Depeche Mode, Yazoo, Throbbing Gristle, Nick Cave, Fad Gadget, Kraftwerk, Goldfrapp, Liars, Buzzcocks, Art Brut and Add N To (X) are but a few Mute bands.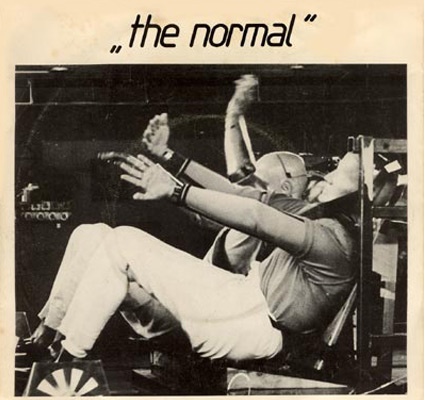 Having released singles on tastemaker imprints Pure Groove and Moshi Moshi Mirrors (AKA James, Ally, Tate and Josef) will release their debut album Lights and Offerings on the massive cult indie Skint. It was recorded in New York's underground hub DFA Studios and is released on February 28th.
An obsessive fan of electronic music, Mark Jones' concept with BTTP was to join-the-dots between the pioneers of electro pop, club music and experimental sounds with new blood who've taken the blueprint and pushed the envelope in their own original direction.
On both nights Mark Jones will be spinning seminal machine music from the past, present and future with Mark's sets paying special attention to new talent like Hurts, Villa Nah, La Roux, Little Boots, Penguin Prison and Ellie Golding.
"Its amazing to see Back To The Phuture evolve into a live 'happening' and to be able to present inspiring artists that've paved the way for all of us alongside ace current talent", says Jones. "Their music has never been more relevant to what's happening – tomorrow is today."
Back To The Phuture is Mark's multi-platform phenomena incorporating the new BTTP live events, a BBC 6 Music radio show, the curation of Thursday nights at Bestival and an Ibizian residency.
The original purveyors of electronica Gary Numan and John Foxx (formerly of Ultravox and presently in his acclaimed guise as John Foxx And The Maths), made music that on release sounded entirely alien and futuristic yet soon became the sound of the decade.
Still sounding fresh today, their influence is ubiquitous. Modern R&B, pop, house, techno, indie, dubstep and more besides, owe a massive debt to the experimental electronics with a pop sensibility laid down by these musicians and their peers. Numan and Foxx are still making exciting music.
Franco-American duo Motor makes uncompromising, sleek yet spiky EBM-influenced techno and their forthcoming album features none other than Gary Numan and Martin Gore, further highlighting the cross-generational exchange of ideas as expressed through BTTP. Recoil, aka Alan Wilder blurs the boundaries between cold wave, icy soundscapes, sleazy goth and pounding beats with an expert panache that one would expect from an ex member of Depeche Mode.
Back To The Phuture started out as a radio show on BBC 6 Music in 2009. The acclaimed program links the synth pioneers with today's electro-pop artists in celebration of 30 years of daring electronics. Two new very special shows for early 2011 will be announced soon – watch this space.
The show has enjoyed massive success, uniting the likes of Gary Numan and Little Boots for a session and orchestrating a performance by Heaven 17 and La Roux at the BBC's famous Maida Vale studios. It was a definitive pop event that drew huge audiences and broke the record for the most watched music event ever on BBC Digital with 1.3 million hitting the red button. Jones has delivered entertaining and educational radio shows with guests including Arthur Baker, Andy Mcluskey and Paul Humphries from OMD, Phil Oakey of The Human League, Gary Numan, Daniel Miller of Mute Records, Heaven 17's Martyn Ware, Steve Strange of Visage and August Darnell of Kid Creole and the Coconuts.
April 1st: Academy 1, Manchester


Manchester
University Students Union, Oxford Road, Manchester, M13 9PR
www.manchesteracademy.net
Tickets: Standard – £25 plus booking fee
Doors: 6pm-11pm
Tel: 0161 275 2930
Tickets:
http://www.townsend-records.co.uk
April 2nd: The Troxy, London
The Troxy, 490 Commercial Road, London. E1 0HX
www.troxy.co.uk
Tickets: Standard – £27.50 plus booking fee (Unrestricted: Circle or Stalls).
Doors: 7pm – 1am
Tickets:
http://www.crowdsurge.com/backtothephuture/
Tickets from the links above, plus
www.backtothefuture.net
,
www.seetickets.co.uk
,
www.ticketweb.co.uk
,
www.wegottickets.com
,
www.crowdsurge.com
and the
venue's box offices
.
Event links
Facebook Manchester:
http://www.facebook.com/event.php?eid=160278567346217&num_event_invites=0
Facebook London:
http://www.facebook.com/event.php?eid=160541340653218&num_event_invites=0
You Tube Channel:
http://www.youtube.com/BackToThePhutureTV
Gary Numan:

http://www.numan.co.uk
For further information please contact Heather Finlay or Duncan Clark at Sainted PR on 020 8962 5700 or atheatherfinlay@saintedpr.com / duncan@saintedpr.com